So I will post a blog post if it kills me.
Lets see. I have feel behind because I have been bumming a computer for forever......I just couldn't justify spendning dough on getting the motherboard fixed. I still want to at some point though to get my pics but oh well.
Well imagine my suprise at Christmas when my wonderful brothers got me a little mini white acer aspire. I love love love it. It is the perfect size.
I was so pumped to take it around town with me today and low and behold my car wouldn't start. Hopefully, it is just the battery.
Cross your fingers:)
Okay, lets see on the 4th the hubby and I had our one year anniversary..we celebrated by watching Hanocock on demand....lol. We are so excitiing.
We have went through a lot in the 6 years we have been married. It was never in the plans to have major life altering surgery in the first few months of marriage :P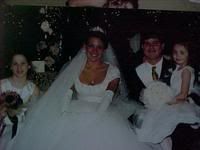 Yeah.
Anyway, her is a wedding pic...these were days before digi pics so bear with me.
In other news still fighting off the sickies. I have been fighting the same infections for months....not fun. Going to the doc tomorrow and my treatment is the next day...so hopefully, I will feel better soon :)