Well as many of you know I almost joined the LDS church. Even though it felt mostly right there were a few things I was having trouble with. The hubby was having the same stumbling blocks.
We both were researching and praying and decided that the Catholic Church was the perfect fit for OUR family.My mother's family is Catholic so I know a lot more about the religion than the hubby but he is coming along :) I have been sharing with him what I do know as well. I will be starting classes at the church in the fall maybe as early as the summer.
Among other things:
We do believe believe there is a apostle, the pope. We believe that Jesus founded his Church upon Peter.
We don't believe in a one size fits all heaven.
We believe in Original Sin.
Good works are important.
So we feel the Catholic Church is the fit for us.
I have literally prayed and thought all this out for about 10 years :O Indecisive much?
Anyway, Houston has always loved reading his Bible. He stumbled upon me doing "Quiet Time" one day and the rest is history. He loves to read his bible and pray with me. He takes notes too.....Okay, okay he draws pictures ;)
He was looking extra cute today.He happened to be wearing his Holy Spirit shirt after a potty accident at school so I thought I would share pictures.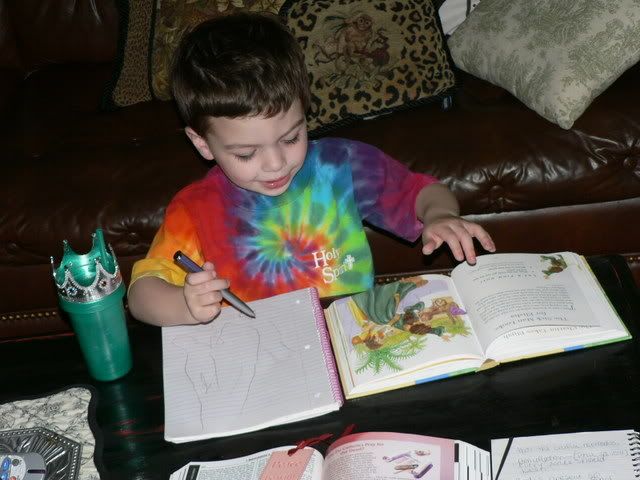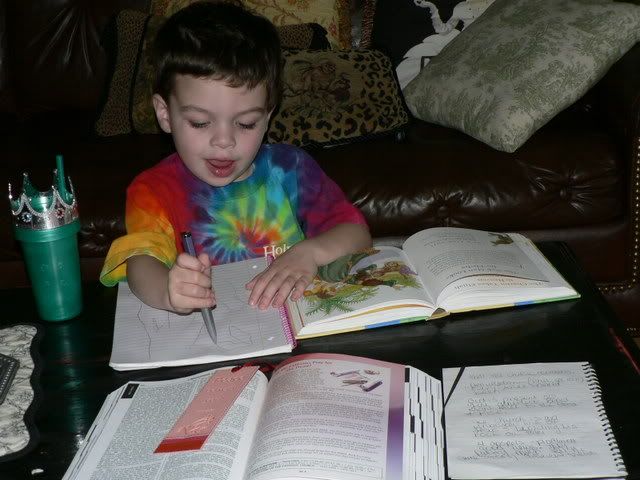 His notes...LOL